[ux_banner height="520px" bg="564″ bg_overlay="rgba(0, 0, 0, 0.61)" bg_pos="35% 100%" parallax="4″]
[text_box width="64″ position_x="50″ position_y="50″]
RACE ROUTE 2020
[/text_box]
[/ux_banner]
[title style="center" text="OVERVIEW"]
[row h_align="center"]
[col span="11″ span__sm="12″ align="left"]
The Route
98km Road Race Route description:
The 98km road race route follows Rondebult as well as Boundary Road and all the way past Carnival City, doing the right turn at Carnival as per usual. It carries on towards Heidelberg before making a right turn to come back on the R103.
Off the R103 it's another right turn onto the R554 (Boundary Road) before accessing Rondebult road again with a left turn.
The race follows Rondebult for only 7km before taking the Pretoria Road slipway. This takes the race off the late morning busy sections in Rondebult Road and brings the event back into Emperors via Griffith Road.
Out of Jet Park the event does a right turn into Yaldwin Road, followed by a left into Taljaard and left again into Jones road to reach the finish, which is at the same spot as the start.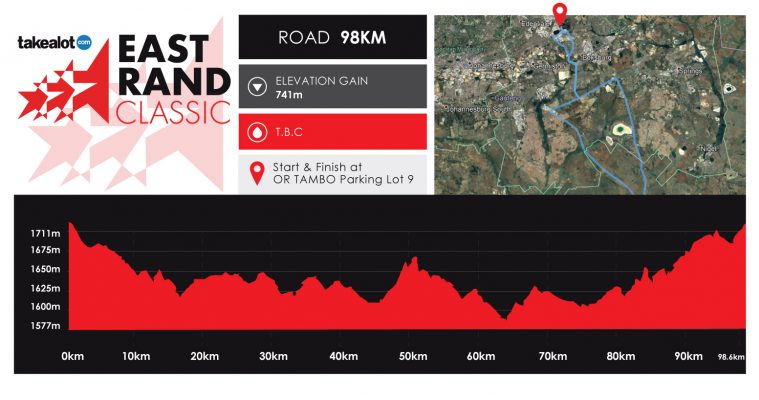 ---
45km Road Race Route description:
The 45km riders go out via Rondebult as per the long ride, but then take the slip road at Commissioner Street to do a loop and join the 98km event at Boundary Road (R554). From Boundary it follows the same path home as the 98km ride.
There is only one right turn on the 40km ride – at Yaldwin shortly before the finishing stretch.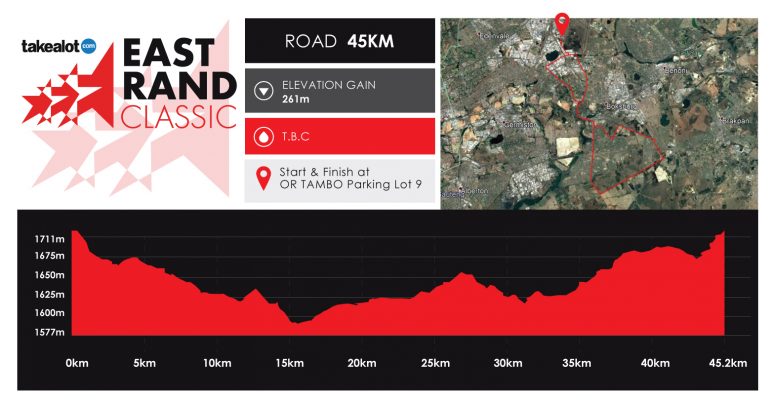 ---
MTB Route:
The MTB event consists of a 25km track which riders complete either once or twice. 
It's very user-friendly and slightly undulating, with some tar work thrown in as well.
There is just one technical drop-off on the 25km track where riders have the option to either take the dive or use the chicken run on the side.
The track is essentially made up of three sections. The first bit is through a forest, then round the dam and suburbs, and finally a seven-kilometre flat section right next to the runway – all interlinked by pavement rides.
The tree section is absolute bliss. It consists of 6km of winding forest with more than enough room to overtake and slightly downhill – so it's nice and fast!
[ux_image_box img="921″]
[/ux_image_box]
[/col]
[/row]
[ux_banner height="350px" bg="559″ bg_overlay="rgba(0, 0, 0, 0.51)" bg_pos="0% 43%" parallax="5″ link="https://www.asgevents.co.za/pages/events/register/?id=356″]
[text_box width="71″ position_x="50″ position_y="50″]
ENTRIES NOW OPEN
[/text_box]
[/ux_banner]